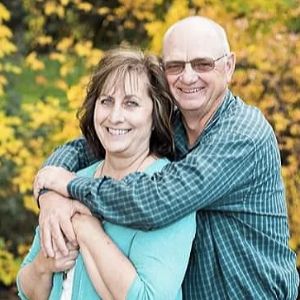 Kent and Ann have owned Snake River RV Park since 2017. You can often find Ann in the gift shop or around the park making it beautiful! She would like to retire, but Kent just cant stop playing in the dirt, Kent enjoys developing land and you can often find him in the cab of a tractor. They raised their 6 children here in Southeast Idaho on a farm, teaching them hard work and responsibility. Their full time job now includes improving the park in many ways, meeting our guests, and enjoying their 28 grand kids!
Chuck and Jeanie have been together 20 years and were married in the Northwest after Jeanie came from San Francisco and Chuck from the St. Louis area. Jeanie's entrepreneurial skills drove various businesses throughout the years, her love for the outdoors and wildlife brought her to Louisiana to clean birds after the oil spill in 2010 for several months!
After 8 years in the military, Chuck spent 35 years in aviation which allowed them to travel throughout the states as well as international destinations. Looking to settle in or near the Northwest, Idaho became a good starting point. You will probably see Jeanie either in the office taking reservations or outside using her landscaping talent. As for the retired Chuck, he will probably be around the Propane tank giving people "gas".
Rebecca has been here for several years and is true and steady! She often works her magic to find our guests just the right site so that everyone is happy. She's a motorcycle riding- purple loving-woman and we love her!!